Won a Car in Copart's Online Auction?
We can ship your vehicle to any location globally!
Key Benefits of Copart
International Shipping
Seamless buying process! Bid, win and receive your lot, hassle free!
We deal with all your paperwork, title delivery, payments...etc.
Consolidate your purchase with others and speed up the delivery cycle.
You can now buy from all over the U.S. and ensure a fast delivery.
Choose from a larger inventory across the U.S. without restricting yourself to buying from the same area in order to consolidate.
Receive free storage in Copart location upon receipt of payment.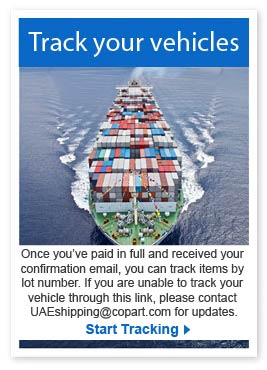 Copart is now offering a door to door solution* with competitive rates to destinations overseas and more flexible options to choose from. Our global network around the world will bring you the best service at the best price. Save yourself money, time and hassle by shipping through Copart!



Click on the links below to find out more:

For a shipping quote or more information, please contact our team now:
Copart Middle East
Phone:
+971 (4) 459 2300 /

+971 (4) 459 2700